IEC LOCK Power Cables. Stop Accidental Power Disconnection.
IEC-LOCK Stop Accidental Disconnection of Power
Ideal for servers, workstations, PDU's, UPS's, networking and storage devices
Compatible with any IEC standard inlet, no tools or additional brackets or clips required
The IEC Lock range protects against accidental disconnection of power cables to servers, workstations, PDU's, UPS's, networking devices, storage devices, security systems and any other equipment that uses standard IEC connectors.
Simply push the IEC Lock connector into any standard IEC inlet and it is locked in position. The connector cannot be accidentally pulled out or vibrated out of the inlet. To remove, simply slide back the 'red' tab to release the lock mechanism and remove the connector from the inlet.
Available in a range for connectors such as IEC C13, IEC C14, IEC 19, IEC 20 and suitable for all Commercial and Medical Industries.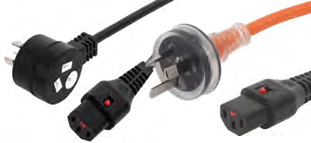 Various connectors and configurations available to suit any of your power requirements. Custom cabling solutions can be produced.

Secure Power to Your Equipment.
Data centre and commercial power applications. Ensure high avability of equipment to avoid accidental Power disconnection.

Rack Power Distribution Solutions.

IEC locking C13 and C19 Power Distribution Units.
You may also like...