NBN Battery Replacement Guide
How to Install Your NBN™ Battery Replacement
You will know when it's time to replace the battery when you see a red light appear next to 'Replace Battery' on the nbn™ connection box. You will also hear an alarm sound – one beep every 15 minutes indicates the battery needs replacing, and four beeps every minute indicates less than half of the battery charge is remaining.
You can purchase an NBN replacement battery from Wagner Electronics Online Store. Australia wide shipping available or pick up in store.
https://www.wagneronline.com.au/nbn-broadband-replacement-battery-drypower/networking/data-computer/12nbn7p-f2-82862/999143/pd/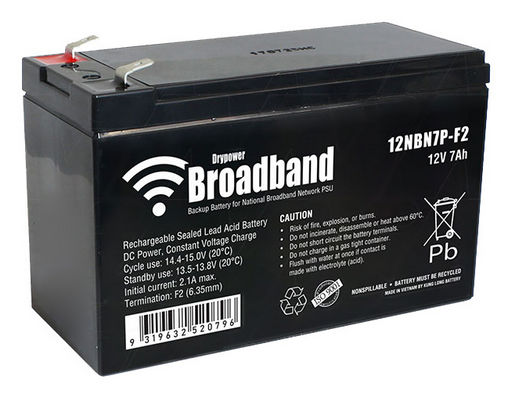 NBN Replacement Battery Data Sheet.
NBN Replacement Guide
Battery Specifications
Battery Type: 12V 7.0-7.2Ah 6 Cell VRLA Sealed Lead Acid Battery
Dimensions: 94mm (H) x 151mm (W) x 65mm (D) (excl terminals)
100mm (H) x 151mm (W) x 65mm (D) (incl terminals) (all tolerances +/- 1mm)
Terminal Type: Spade-type. Quick disconnect 'F2' 6.35mm (W) x 0.81mm (Thickness)
Removing the battery
Turn off the electrical outlet for the Power Supply Unit and then unplug the power cord from the electrical outlet.
Open the front cover of the Power Supply Unit.
Disconnect the red positive (+) plug from the battery.
Push the tabs above and below the battery outward, and then lift the battery out of the Power Supply Unit.
Disconnect the black negative (–) plug and remove the battery.
Installing a new battery
Connect the black negative (–) plug to the new battery.
Push the battery retaining tabs outward and insert the battery into the Power Supply Unit.
Connect the red positive (+) plug to the new battery
Make sure the wires are not being pinched by the battery or the front cover.
Close the front cover and plug the Power Supply back into the electrical outlet and turn the power on.
The new battery will take 24 hours to completely charge. Please keep the old battery as a backup unless it no longer functions.
Once power is returned to your NBN™ equipment, please allow up to 10 minutes for it to reboot. During this time, you may not be able to use your NBN™ services.